Where To Get Free Fries On National French Fry Day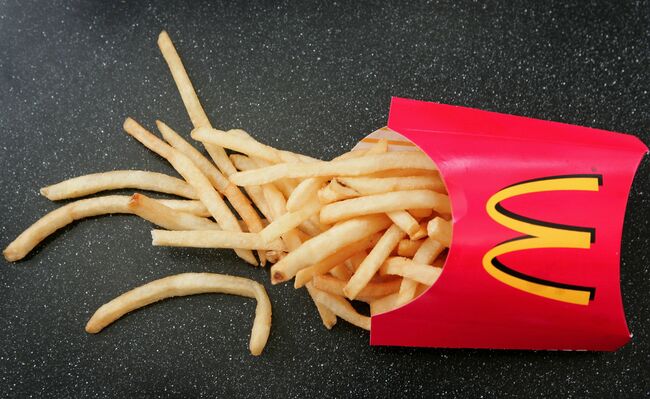 National French Dry Day is coming up on Saturday (July 13) and you can celebrate by getting a free order of fries at some of your favorite restaurants. Thanks to Offers.com, we know all the places you can snag that necessary order of free fries. Here's their full list of freebies:
McDonald's: $1 small fries or hash browns through July 21 and $1 medium fries on Fridays with any $1 purchase made via the app.
Uber Eats: Get a free medium order of fries with any McDonald's order you place on Uber Eats starting 11 a.m. local time. Just add a medium fries to your McDelivery order and enter the promo code (which you'll find in the app).
Taco Bell: Nacho Fries are back for a limited time. Get one order for $1.29.
Burger 21: Participating locations will offer Buffalo Ranch Fries.
BurgerFi: Get a regular-size order of fries for $1 all day at select locations.
Carl's Jr.: Sign up for the Carl's Jr. email list and get a coupon for a free small order of fries and small drink with purchase of any Western Bacon Cheeseburger. Plus, try the new Western Fries (natural cut fries coated in Western seasoning) starting at $2.99.
Checkers: Grab a coupon for free fries by signing up for their email list.
Farmer Boys: Get $1 fries with any purchase 12 p.m. to close at participating locations
Hardee's: Sign up for the email list, and get a free small fries and small drink with the purchase of any 1/3-lb. Thickburger.
IHOP: Get unlimted with your Classic Steakburger when you dine in.
Mooyah: Get a free personal order of fries when you download the Mooyah rewards app.
RedRobin: Enjoy bottomless steak fries when you order any $6.99 all-day burger option.
Sheetz: Get a free bag of fries when you order via the app on July 13.
Sonny's BBQ: All day on July 13, get all-you-can-eat Crinkle Cut Fries. 
Wienerschnitzel: Through July 28, get $1 off any regular or large Chili Cheese Fries.
Wingstop: Sign up for The Club loyalty program, and get a free order of fries.
If you're unsure which french fry establish to collect your free prize from, Offers.com actually figured out which fries are most popular in the U.S., so, you can always start with the best and work your way from there. They surveyed 1,062 Americans about which fast food joint has the best french fries in the country. Here's their ranking:
McDonalds – 43%
Chick-fil-A – 18%
Wendy's – 13%
In-N-Out Burger – 9%
Arby's – 8%
Shake Shack – 5%
Other – 4%
Will you be celebrating National French Fry Day with a free order of fries?
Photo: Getty