The song "Happy" As Would Be Done By The "Family Guy" Cast.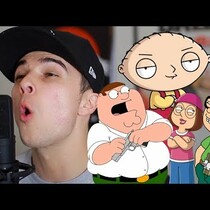 Posted March 26th, 2014 @ 3:39pm
This guy named Mikey Bolts does spot-on Family Guy impressions (even looks like a young Seth McFarlane.) He's done a cover version of the song from Despicable Me 2 "Happy" (with a few extra lines thrown in.) If you're a fan of this show, this should tickle ya a bit today.
Here's the original Pharrell version of the song.