R.I.P. Frank Bank A.K.A. "Lumpy"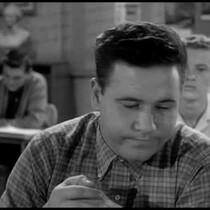 Posted April 16th, 2013 @ 9:36pm
For those of us who loved "Leave It to Beaver" (even if for people like me it was in reruns) this is a sad loss. Frank Bank, who played Clarence "Lumpy" Rutherford, passed away on Saturday at 71.
After "…Beaver" ended, Bank became a bond broker and helped some of the cast with the money they made on the series and beyond.
Jerry Mathers, who played "Beaver" wrote on his Facebook page, "I was so sad to hear today of the passing of my dear friend and business associate Frank Bank, who played Lumpy on 'Leave it to Beaver.' He was a character and always kept us laughing. My deepest condolences to Frank's family."
Here's the news story in his passing [Click here]
Here's Lumpy being Lumpy
Here's one of the fun things he did in later years, associated with his character on the show.