Alice Cooper's Rolling Stones tribute (Sort Of) "I'll Bite Your Face Off"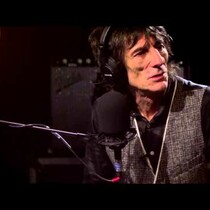 Posted February 27th, 2014 @ 1:52pm
Alice Cooper hasn't changed a bit. Cool to talk to, scary at times to watch on stage. His latest song has a bit of a Rolling Stones feel, as he explains to Stones guitarist Ronnie Wood on his radio show before launching into the video "I'll Bite Your Face Off." Pure Alice!!!
Check the preview of a forthcoming Alice Cooper documentary, complete with archival footage, interviews, and a bunch of Alice MADNESS to re-live!!! The DVD will make a perfect Halloween gift later in the year if you're thinking ahead.